Service Industry
Manufacturing Industry
Public Educational Events
LEAN IN LABORATORIES
A 5-Day Virtual Certificate Program
Learn how the Lean fundamentals and a Lean mindset apply to reduce lead time, eliminate quality issues and expedite the batch release process. The result: a 50 to 90% performance improvement plus an energized Visual Laboratory workplace.
Register now
Brochure
DESCRIPTION DU PROGRAMME
Your safety is our priority! This will be a Virtual Consultant-led Education Program.
Pharmaceuticals, Human and Animal Healthcare, Bio-tech environments, Cosmetics, Chemicals, Food industries, R&D…
The Lean laboratory certificate program is a 5-day fully accredited program designed to start you on the path to continuous improvement in your lab! Learn how to manage flows, eliminate backlogs, rework, and other inefficiencies while improving service to production, supply chain and customers and increasing employee satisfaction.
Why is Lean important in lab environments?
Because a laboratory is involved at each step of the Value Stream — incoming materials and goods, work-in process, and semi finished and finished products — delays and errors have a negative impact on the entire organization. Therefore speed, reliability and quality, i.e. lab efficiency, have a direct impact on overall organizational efficiency, as well as costs and the ability to meet customer demand.
Furthermore, specialized skills needed in the laboratory make it specially devastating for the organization when individual technicians leave due to an inefficient stressful process and environment.
Applying Lean in a lab environment helps alleviate inefficiencies by:
Improving end-to-end processes (Value Streams)
Underscoring demand and its variability
Scheduling analysis flows based on demand
Defining resources required
Creating and sharing standards to reduce rework
While
Creating a working environment based on trust, empowerment, and teamwork
Upskilling through cross-training
Developing problem-solving skills
The Lean Lab concepts apply to all laboratories including Production Labs, Quality Control, Quality Assurance, and R&D.
---
PROGRAM OBJECTIVES
Discover how Lean can help:
Continuously improve customer satisfaction by improving quality at the source and reducing lead-time for your customers
Systemically and repeatedly identify process inefficiencies so they can be reviewed and eliminated
Eliminate back-logs and failure demand – the work created when an activity is not carried out correctly the first time
Level the analysis flows to respond to incoming demand
Reduce absenteeism and turnover by creating more value-added work
Make processes visible so everyone can monitor daily progress to achieve improvement goals
Increase process capacity so more value-adding work can be performed with existing resources
---
BENEFITS OF ATTENDING
You will understand how these principles apply to your laboratory processes and how you can develop your "leadership legacy" through the implementation of these Lean approaches.
Upon completion of this 5-day program, you will be awarded the Lean Laboratory Improvement Certificate and earn 4 Continuing Education Units from The Ohio State University.
---
PROGRAM CURRICULUM
Monday 8am-5pm
Lean Fundamentals in Labs Environments
A3 Thinking
High Level Process Mapping
Learning to See Waste in Labs
Tuesday 8am – 5pm
Mapping and Improving the Value Streams
Understanding Incoming Laboratory Demand
Defining Product Families in Laboratories
Wednesday 8am – 5pm
Planning and Scheduling to Optimize Man and Equipment Time
Building Visual Management for Analysis Flows and Lab Activities
Workplace & System Organization: 5S's, Visual Standards and Standardized Work for Process Stability
Thursday 8am – 5pm
Reducing Set-up Times
Establishing metrics: Leading and Lagging KPI's
Daily Performance Management
Team-Based Problem-Solving
Friday 8am – 12pm
Week in Review
Taking it Back Home: Outlining Your Implementation Roadmap
---
WHAT PAST ATTENDEES ARE SAYING…
"We have been able to reach all our targets in 2019, and this is mostly due to the Lean Lab program which has made us capable of guaranteeing 24hr response time to our customers."
Laurent G., Managing Director Finance – Synlab Analytics & Services
"…your support…has allowed us to build solid fundamentals in Visual Management and Lean Labs, ….instrumental to our plant being awarded the Shingo prize…"
Amayas B., Global Manufacturing Performance Senior Director – Ipsen Pharma Biotech Techops Division
"It (Lean Labs) is so great. Everything has changed."
Sophie S., Quality Director – Aoste
"Through Lean Labs, I have become another person, and a real manager."
Francoise A., Laboratory Manager – Aoste
---
ABOUT YOUR Teacher
Catherine Converset
Président Productivity USA | Senior Lean Consultant | Lean Speaker | Lean Teacher
---
ABOUT YOUR HOSTS

PRODUCTIVITY INC.
Productivity Inc. is a leading consulting and training firm that helps organizations build new capabilities, save money, and grow. We focus on three progressive strategies: Operational Excellence, Innovation and Leadership Development.
Working together, these strategies provide the means to continually refresh a company's value proposition while making the organizational changes needed for daily improvement and sustainable growth.
We pioneered the implementation of Lean and TPM methodologies in manufacturing in the late 1970s. Since then, we have extended these methodologies across a wide range of industries, including healthcare, finance, and other service industries.
Today, our time-tested management system, motion™ provides organizations with:
a uniquely comprehensive approach to implementing Lean across an entire enterprise, incorporating assessment, leadership, and business renewal.
a robust process for innovation to develop an organization-wide capability to create new forms of value – reliably, predictably, repeatedly.
More than simply a Lean consulting firm, Productivity Inc. can provide you with a variety of methodologies to keep your enterprise in motion™.
THE OHIO STATE UNIVERSITY'S FISHER COLLEGE OF BUSINESS

Since 1916, The Ohio State University's Fisher College of Business has produced exceptional leaders who meet the challenges of a changing global business environment through creative and effective solutions. As a result, Fisher's reputation continues to rise and is reflected in rankings which place the college among the top 15 Business Schools in the nation at the undergraduate and graduate levels of public universities.
Today, Fisher College of Business Executive Education continues to provide growth opportunities to business professionals seeking to increase their knowledge, insights and intuition. Their executive-level degree programs are comprehensive, integrative and examine today's issues from every angle to give you a total business perspective.
---
Brochure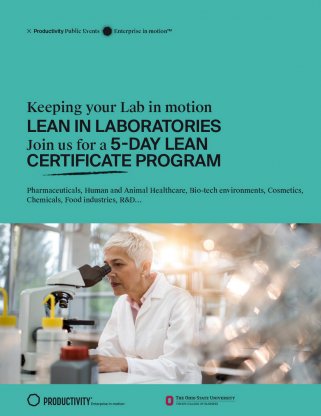 Lean in Laboratories – Certificate Program
A 5-Day Virtual Certificate Program
Télécharger la brochure
---